As a centennial project to mark the 100th anniversary of the Battle of Vimy Ridge as well as the 100th anniversary of the end of the First World War, the Vimy Foundation is creating the Vimy Foundation Centennial Park, adjacent to the Canadian National Vimy Memorial in northern France. This 4 acre commemorative park will complement the surrounding area and be a reflective space for visitors to Vimy.
Built on private farmland purchased by the Vimy Foundation, the land has required extensive demining and preparation prior to creation of the park. Construction is currently underway with plans to open the Vimy Foundation Centennial Park in November 2018 to coincide with the centennial anniversary of the Armistice.
Click the image below to view a time lapse video of the recent construction
PARK DESIGN & KEY ELEMENTS
The Vimy Foundation Centennial Park is designed as a place for reflection about the role Canada played in the First World War and an opportunity to honour the Great War generation. All elements of the park have been carefully chosen. Design by Linda Dicaire, Landscape Architect.
VIMY OAKS
The Centennial Park will feature 100 Centennial Trees dedicated to Canadians. The repatriated Vimy Oaks (Read more about the Vimy Oaks here) commemorate the living spirit of those who fought and testify to the intimate relationship between people and nature even in the most tragic circumstances. The four rows of trees in the centre circle commemorate the four Canadian divisions that participated in the battle in 1917.
Each Centennial Tree is available for $10,000 and will feature the donor's name on the Centennial Park plaque. Click here for the list of current Centennial Tree donors. Proceeds will support Vimy Centennial Park and education programs of the Vimy Foundation. *Limited number of Centennial trees remain*
Commemorative Vimy Oaks are also available for purchase to plant in Canada at $1,000 per tree.
CENTENNIAL BENCHES
The paths through the Centennial Park create a unique perspective of the Vimy Memorial, surrounded by Vimy Oaks. Centennial benches, placed throughout the park, provide an opportunity for gathering, dialogue, and extended reflection, all essential elements to conflict resolution and peace that the monument inspires.
The Centennial Benches, built in Canada, are available for sponsorship. Scroll down for the list of current Centennial Bench donors. Proceeds will support Vimy Centennial Park and education programs of the Vimy Foundation. *Very limited number of Centennial Benches remain*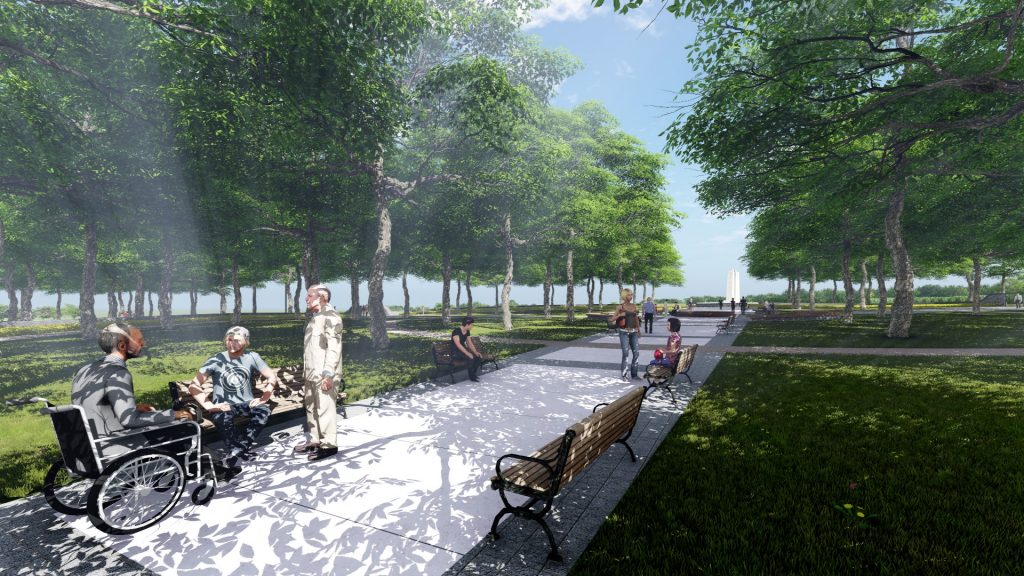 THE BUGLER MEMORIAL SCULPTURE
Camp Borden was founded in 1916, training nearly fifty thousand soldiers for service in The Canadian Expeditionary Force. For many of those soldiers, their first action was during the Battle of Arras, and specifically the Battle of Vimy Ridge. The Memorial Sculpture of the Bugler is generously provided by CFB Borden.
The Memorial Sculpture of the Bugler, designed by the Canadian artist Marlene Hilton Moore, invites visitors to reflect on moments one hundred years earlier, as the bugle call rang out at the dawn of morning of April 9, 1917, and again on November 11, 1918 at the beginning of peace.
A twin Bugler is installed at CFB Borden in the Borden Legacy Park, calling to the now-empty trenches that once trained soldiers before they left for battle overseas.  Read more about the Borden Legacy Park here, created for the centennial anniversary of the establishment of Base Borden.
CENTENNIAL PARK FLAGPOLE
Standing tall like the Vimy Oaks around it, the Canadian flag flies proudly. The flagpole is sponsored by Molson Coors, in memory of Captain Percival Molson, M.C. On July 5, 1917, Captain Percival Molson, MC was killed by a German howitzer during fighting at Avion, near Vimy Ridge.  "To you from failing hands we throw / The torch; be yours to hold it high."
CENTENNIAL PARK SUPPORTERS
Vimy Centennial Park Sponsor
Centennial Flagpole
Proudly sponsored by Molson Coors
In memory of Captain Percival Molson, M.C.
"To you from failing hands we throw
The torch; be yours to hold it high."
Centennial Benches
John and Pattie Cleghorn and Family
Karen Girling, Bruce MacLellan, Ally and Sara, in memory of those who served.
In memory of:
Donald Wilfred Machum
4th Canadian Mounted Rifles
1895 – 1966
Donald Alexander Machum
1927 – 2007
Hamilton Academy of Medicine in support of Docs on Ice
In dedication to the brave men and women who fought for freedom at Vimy Ridge
On behalf of Husky Injection Molding Systems
LeNouveau-Brunswick se souvient
New Brunswick Remembers
Don de la province du Nouveau-Brunswick
Donated by the Province of New Brunswick
The Government of Nova Scotia commemorates Nova Scotians who served, and continue to serve Canada. We shall never forget their service and sacrifice.
In memory of Helen Allen Stacey who connected thousands of needy children with adoptive parents and Col. C.P. Stacey, professor and official historian of the Canadian Army in the Second World War. Remembered by their loving families and friends.
The Vimy Oaks Legacy Corporation
Centennial Trees
Amelia & Lino Saputo Jr. Foundation
Assurant
Bain Family, in memory of Pvt William Arthur Wilcox, 15th Bn, lost at Festubert, France May 21, 1915
The Boquist Family
The Burton Family in memory of Graham Burton
The Cadets of the Eastern Arctic. Thank you for your Gift of Freedom.
Graham Campbell & Rachel St. John
Joseph L. Campbell and Joan Miller-Campbell
From the Capern Walimaki Family, in loving memory of our ancestors who sacrificed for us all.
To honour ARLINGTON CLARKE and the many brave Canadians who fought at Vimy Ridge. The Clarke Family
A.Coburn & D.Auringer families in memory of Thomas Wilson, 196th Battalion CEF
Costigan family, in memory of Major John Francis Costigan, 50th Battalion infantry. April 4th 1917 Canada.
The Croxon Family
In Memory of General Sir Arthur Currie
The Dalglish Family
Donnelly Automotive Group, Ottawa
Robert C. Douglas and Joanne R. Sutherland in Honour of James R. Sutherland Sr. 44th Bn(Manitoba)
We remember Jack and Fred Evans, brothers from Parkland, Alberta, who died at the Somme in Nov. 1916
Flinker Family
Robert Francis
The Fraser Family in memory of Frederick Thomas Lodge & John (Jack) Fraser
In memory of the brave souls who fought for our freedoms. We owe you immeasurable Gratitude. The Galt Family.
Matt and Erin Giffen & Family
The Glover Family honours Sergeant Winfred (Fred) Alexander Glover, 21st Battalion, Canadian Infantry
Ian & Christie Gray Family, Port Credit Ontario
Alan Greenberg, Darcia Rowntree and Families
Ken and Dianne Griffith & Family
Harold S. Hadley & Claudia J. Kennedy
In memory of Capt Frank Edgar Hamblin, 5th Canadian Mounted Rifles
Hamilton Academy of Medicine in support of Docs on Ice
Ainslie Hogan and sons
For Brave Valentine, with Love The Hyatt Family
Industrial Alliance
The MFL Jaques Family, In loving memory of Lieutenant Maurice Alexander Jaques, lost Sept 3, 1916
The Kelleher Family in memory of Dr. W.R. Harwood
The Kelsall Family In honour of Corporal Samuel Lester Kelsall 58th Battalion 9th MGC 3rd Division
Nancy MacKellar
We will not break faith, nous nous souviendrons. Fergus, Molly & Racheal McCaig
The McCook, Leger, and Styner Family
Mr. & Mrs. S. Mehta, Mississauga, ON, in memory of our beloved servicemen who paid the ultimate sacrifice. Requiescat in pace.
The Mews Family in memory of Lieutenant Henry (Harry) George Reginald Mews
Karen Miller and Gerald McDonnell
Mike Stollery Automotive Partnerships in honour of Private G. R. Mowforth
The Men and Women of Operation Guardian Force who care for and Remember our Veterans
The Knights and Dames of the Order of St. George Canada. We Will Remember You.
Randy & Carolyn Peek & Family
Pembcorp Automotive Group
In memory of soldiers of Princess Patricia's Canadian Light Infantry who paid the supreme sacrifice 9-12 April 1917
In memory of Andrew Powell
Robert Quartermain
The Ritz & Hunt families in memory of Pte Harry Franklin Ritz (78th Bn)
Honour – Courage – Sacrifice / Royal Canadian Navy
Royal Military Colleges of Canada, Class of 1973. Truth, Duty, Valolur / Vérité, Devoir, Vaillance
The Shanahan Carriage Company in memory of Lieutenant-Colonel John H. Chipman, MC, VD
Shannon Family in loving memory of of our grandfather Wilfrid J. Fagan
TAO Asset Management
Irene Topits
The Vickers Family in memory of Gunner Arthur Vickers and Private Arthur Fordham
Courage Remembered – In loving memory of G. Kingsley Ward and Adele E. Ward
The Wood Family in memory of Flight Lieutenant John Harvie Wiley
The Wyant Family in memory of Lieutenant-Colonel Gordon M. Wyant, OC, CD, QHP
To purchase a Centennial Tree and support the Vimy Foundation Centennial Park and educations programs, please contact Jeremy Diamond, Vimy Foundation Executive Director, at jdiamond@vimyfoundation.ca or 416.595.1917 x 1.