The First World War in Colour project will consist of colourizing 150 images to commemorate both the 100th anniversary of the Armistice and the 150th anniversary of Canada's Confederation.
These photos have been drawn from the vast archival collection at Library and Archives Canada as well as local archives across the country such as: the City of Toronto Archives, the Glenbow Museum and Archives, the City of Vancouver Archives, the Rooms in Newfoundland and the Nova Scotia Archives.
Please enjoy the virtual gallery of images below and stay tuned as additional photos will be added to our collection in the coming months!
A little French paper boy selling papers in Canadian line. June, 1917/PA-001436
Gen. Sir Sam Hughes and Party looking at ruins in Arras. August, 1916/PA-000590
On sentry duty on a front-line trench. September, 1916/PA-000568
Communication trench. September, 1916/PA-000791
"A Burial Service at the Front" Funeral of Major E.L. Knight, Eaton Motor Machine Gun Battery. October, 1916/PA-000652
Pack horses taking up ammunition to guns of 20th Bty CFA Neuville St. Vaast. April, 1917/PA-001229
Canadians testing their gas masks after heavy work in the trenches. September, 1917/PA-001835
Canadian pioneers at work in a wood near Vimy Ridge. August, 1917/PA-001729
Despatch Rider for His Majesty's Pigeon Service leaving with birds for the trenches. November, 1917/PA-002069
Canadian wounded enjoying a cup of tea at Advanced Dressing Station during the advance East of Arras. October, 1918/PA-003192
German prisoners carrying Canadian wounded. Advance east of Arras. August, 1918/PA-003178
Canadians filling their water bottles, etc. Amiens. August, 1918/PA-002970
Highlander cleaning his rifle. June, 1916/PA-000163
Battle of Amiens. Tanks advancing. Prisoners bring in wounded wearing gas masks. August, 1918/PA-002951
Gen. Currie telling now Vimy Ridge was taken. Visit of Canadian Journalists to the Front. July, 1918/PA-002913
Nova Scotians returning to camp after a game of baseball. February, 1918/PA-002464
Canadians interested in Canadian Daily Record in trenches near Lens. February, 1918/PA-002403
Nursing Sisters at a Canadian Hospital voting in the Canadian federal election/PA-002279
Canadian Pioneers carrying trench mats with wounded and prisoners in background during the Battle of Passchendaele/PA-002084
Three Canadian soldiers in a German dug-out captured during the Canadian advance east of Arras/PA-003201
Canadian and German wounded help one another through the mud during the capture of Passchendaele. November, 1917/PA-003737
Canadian forestry men having a skate/PA-004972
Telephone testing station at the front. Operators at their posts. October, 1916/PA-000740
Unable to ride his cycle through the mud caused by the recent storm, a Canadian messenger carries his "horse". August, 1917/PA-001581
Canadian writing home from the line. May, 1917/PA-001388
Left to right: Nursing Sisters, Mowat, McNichol, and Guilbride/PA-007350
Funeral of Nursing Sister G.M.M. Wake, who died of wounds received in a German air raid/PA-002564
Mayor of Toronto welcoming 53rd Battery C.F.A. after their training at Kingston/PA-004917
Views taken on Christmas Day 1917, at Duchess of Connaught Red Cross Hospital, Taplow/PA-005059
Assembly Department, British Munitions Supply Co. Ltd., Verdun, P.Q./PA-024436
First World War veterans learning handicrafts under the Department of Soldiers' Civil Re-establishment. 1918-1919/PA-068115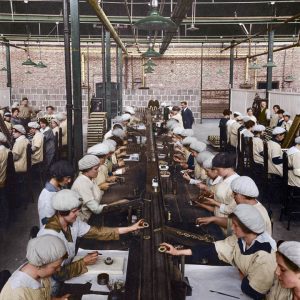 All photos courtesy of Library and Archives Canada (modified from the originals).
Colourizations by Canadian Colour.